The starry sky full of sky seen from the open-air bath! A superb view hot spring of a stylish inn standing in a castle town! Superb view hot spring spreading at the foot of the mountain! An inn renovated from an old house from the Edo period!
Good morning. The temperature changed from yesterday's spring to a cold morning like a return to winter! Everyone, the temperature changes so fast that you should manage your physical condition so that you do not catch a cold!
Today we will introduce the remaining 4 hot springs recommended by Fukuoka locals.
7.If you reach for your hand, you will reach the star of the sky! "Hoshino Onsenkan Kirara"
It is located in a peaceful mountain of Yame city, which is famous for tea. And it is known that you can enjoy the open-air bath while watching the rich nature and the stars.In the daytime, a large panorama overlooking Hoshino Village, and at night, the stars are full. Hoshino Village has a low population density and clear air, so it will reach the stars if you reach out. It is also known as "the village where the stars are born".Kirara also has accommodation facilities and a campsite, so it would be nice to stay here if you come here.It is not impossible to transfer by bus from JR Hainuzuka Station, but it is time consuming to transfer, and it is recommended to go by car because you have to walk a lot from there even if you arrive!
10870-58 Hoshino Village, Yame City, Fukuoka PrefectureApproximately 90 minutes from Yame city transfer from JR Hainuzuka station. I recommend going by car!
8. "Akizuki Onsen Seiryu-an," a stylish hot spring with a view from anywhere, standing in an old castle town
Akizuki in Asakura City, where Seiryuan is located, flourished as a castle town in the past, and it is said to be "Okuzashiki in Fukuoka" and "Chikuzen in Chikuzen".A short walk from the inn is the ruins of Akizuki Castle, where the ruins of the castle building, samurai residence, and the town town of Machiya are in harmony with the natural scenery and rural scenery. Designated as a storage location. After enjoying this hot spring, it is good to take a walk around the town.Seiryu-an is a stylish hot spring with a good view from everywhere, and the lush Japanese garden is stunning. When you soak in the hot spring, you can hear the sound of the flow of a quiet mountain river. It seems that daily fatigue will be gradually removed. Also recommended during autumn leaves.
https://youtu.be/hqMOxSJI9pY
1058 Akizuki, Asakura City, Fukuoka Prefecture10 minutes walk from Akizuki bus stop
9.A spectacular view after climbing the mountain path "Tanushimaru Onsen Minou Sanso"
It is located about 50 minutes drive east from Kurume city in the southern part of Fukuoka prefecture.Located on the hills of the Minou Mountains, it is also quite steep, and it can be said that it is an affordable retreat on a road that will definitely get lost without a map or navigation. However, the best place to climb up is the superb view of the Chikugo Plain and Mt. Kodokoro, so you can feel as if you were with the world.There is also a family bath in addition to the open-air bath with a view, and the hot water is refreshing at a simple hot spring. There is also a cafe so you can eat.
https://youtu.be/DUwPS9RugJA
1206 Moribe, Tanushimaru-cho, Kurume-shi, FukuokaAbout 5 minutes by taxi from JR Tanushimaru Station
10."Fukahori House" renovated from an old house from the Edo period
In a residential area in the southern center of Fukuoka Prefecture, such a place? A vast site of about 4,000 square meters that suddenly appears in a place where you can think of it. An inn built by relocating an old house from the Edo era. When you enter, there is an old house that stands quietly as if you were lost in a different dimension. It's like a world of "Spirited Away".There are beams, pillars, and slabs of the old house. It is in harmony with anything.The hot spring is a natural hot spring like a toro lotion. It's very good, but I don't want it to be so famous.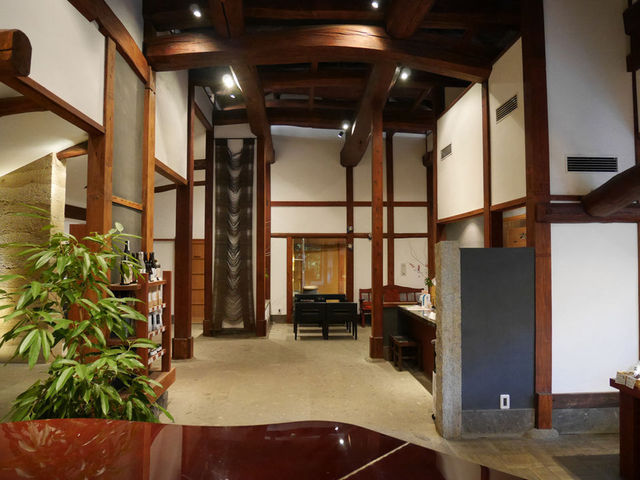 6552 Nishimuta, Mizuma Town, Kurume City, Fukuoka PrefectureAbout 5 minutes by car from JR Nishimuta Station
What did you think?I want to go! Is there a hot spring you thought? I like to stop by hot springs and go to hot springs three to four times a week. I will blow away the fatigue of work!Tomorrow, I would like to introduce recommended souvenirs in Fukuoka over several days.looking forward to!